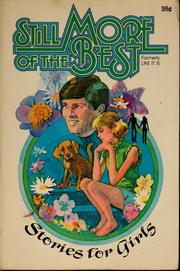 Still More Of The Best Stories For Girls (aka Like It Is)
Ed. N. Gretchen Greiner, il. Jim Conahan; il. Tom Nachreiner (cover)
1972, Golden Press
A fairly low-quality anthology of stories which are clearly intended to be very
relevant
.
Stories:
Good-Bye, Miss Kitty by Jane L. Sears
High-school freshman Karen sets out to rehome her beloved cat when her parents' impending divorce means moving to an apartment that doesn't allow pets.
By far the best-written and most poignant of the stories in this anthology, this one still has the same odd, unreal quality of most of the others.
Dog-Sitter by Carl Henry Rathjen
Tena nervously faces down her first pet-sitting appointment as she chews on the bitter argument she'd had with her boyfriend's father about girls applying to vet school.
The outdated – and somewhat dangerous – advice on dog handling is almost enough to distract from the typical denouement in which the heroine realizes – surprise! – that her crisis is all in her own silly little head.
Fly Free by Carol S. Adler
Clare has retreated into herself after an accident amputated two fingers.
Sent on an extended visit to a friend's family, she's drawn into the tense dynamic between the engineer father and his level-headed son who has no aptitude for math.
Well-written and involving.
A Person, After All by Constance Kwolek
Anne reads the obituary of a dull, frumpy teacher , and realizes that the woman's
life contained parallels to her own.
Two Nice Girls by Frances Gray Patton
Two college girls, one black and one white, have a self-consciously self-congratulatory friendship until one gossipy chat exposes more of each's background than she'd have liked.
They Don't Make Glass Slippers Anymore by Lael J. Littke
A teenager uses her little brother to get the attention of a handsome boy at the local amusement park.
The Year of the Baby by Carol Madden Adorjan
Only child Lorna is furious and unsettled when her parents announce that her mother is pregnant.
The Summer of Charlie Crip by Suzanne Roberts
Six months after her brother's death in Vietnam, Karry is listlessly hanging around at the family's summer cottage.
A rescued baby bird and a cautious new boy bring her back to life.
Debbies Faces Herself by Pauline Smith
No Boy.

I'm A Girl!

by M.J. Amft
Authors
N. Gretchen Greiner
A Batch Of The Best (1979)
Jane L. Sears (1929-2012)
Wrote nurse romances; her mother Ruth McCarthy Sears wrote gothic romances.
Carl Henry Rathjen (1909-1984)
A prolific writer who contributed to the Trixie Belden series but concentrated on science fiction.
Carol S. Adler (1932-)
Better known as C.S. Adler. Has written many children's books.
Constance Kwolek (1933-2009)
Published one novel, Loner, and wrote articles and short stories.
Frances Gray Patton (1906-2000)
A short story writer best known for her novel
Good Morning, Miss Dove
.
Lael J. Littke
Author of over 40 books, including many young adult novels and books aimed at the Mormon market.
Carol Madden Adorjan
A teacher who wrote several books.
Suzanne Roberts
Difficult to determine
Pauline Smith
M.J. Amft
A short story writer.
Links
A cranky boy
review
of this book (with original cover) and Greiner's followup
A Batch Of The Best
.
Note
This seems to have been one of a series of young adult anthologies. The others were:
The Best Stories For Girls
More Of The Best Stories For Girls
A Batch Of The Best