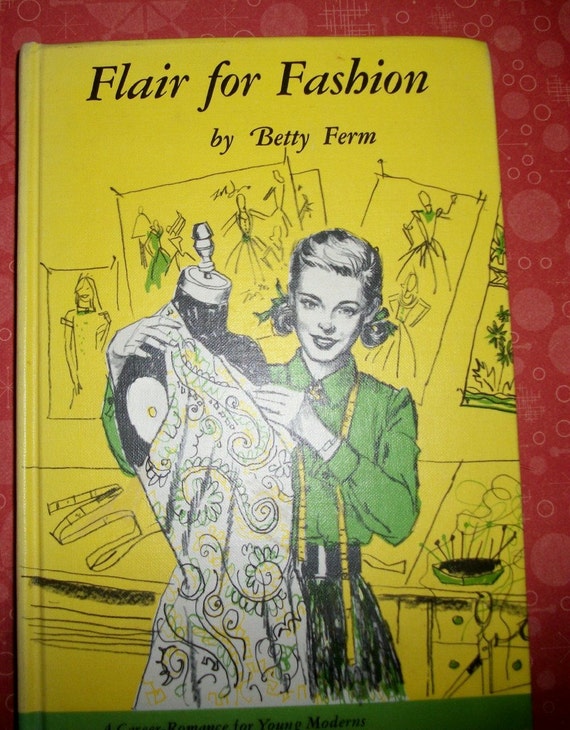 Flair for Fashion
Betty Ferm
1967, Julian Messner
A Career Romance for Young Moderns
Her black hair was brushed to perfection and capped her head in a casual, to the shoulder length. A new white lace blouse enlivened the dark V of her jacket, and just the right amount of powder duster the tip of her slightly tilted nose.
And thus are we introduced to Ellen Matthews, en route to New York to claim her prize from fashion school; a six-month internship with Countess Gardella at the House of Etienne.
She gave the gown a pin-tucked shirt waist bodice with a long, cuffed sleeve. The suggested fabric to be used was chiffon, with a low-cut matching colored slip. She added a billowing skirt and indicated that the half-inch belt was to have a round buckle made of the same chiffon.
This design wins her the internship, and is later dubbed Black Magic. It not only wins Ellen her shot at New York success, it will affect all her relationships at the House of Etienne.
Starting with the Countess's son, Tony.
Because the Countess is ill when Ellen reaches New York, and Tony is in charge.
And her introduction to Tony is to overhear him say he needs an experienced assistant, not "some callow kid who's still wet behind the ears."
Meanwhile, in Ellen's personal life, she's bunking with conveniently placed relative Aunt Laura, who lives in New York and is largely dismissed by Ellen and her cozy nuclear family for being a finicky spinster. Already interested in the Saint Louis ingénue is handsome blond ad man Bill Jennings, whose company handled the contest for the House of Etienne.
Bill's a slick native New Yorker whose innate sneakiness fascinates and repels Ellen in equal amounts.
And of course, she ends up with a thing for her dark, suave, faintly French boss, Tony.
Extreme amounts of clothing porn.
Ferm describes what virtually everyone is wearing in virtually every scene, and makes it clear that this is Ellen's fascination in life.
Which is great.
He was very handsome in a black mohair suit with a woven silk tie. He wore a French-cuffed white shirt with jeweled cuff links that matched his tie stud….
The descriptions are rather flat and overdone.
This side is rather dull, for once.
But the motivations, and the tale of a young, rather naïve girl thinking over her instinctive reactions to various situations – those are wonderful.
At one point, Ellen giggles at the complicated process of ordering wine, and Bill tells her something she had never considered before – that the fashion world involved more than creative design, that ordering wine and being a social creature was part of the business as well.
In another fine moment, Ellen's assumptions about a fat friend – and about her boring, old maid aunt - are exploded. Just as Ellen is mentally giving both women – one thin and colorless, the other fat and dressed in loud patterns – a makeover, fat Mrs. Boorman stuns her:
"Of course," Mrs. Boorman remarked, as they sat down at the table, "I could look even slimmer if I wore solid colors." Ellen almost dropped her tomato juice. It had never occurred to her that Mrs. Boorman understood that.

She had assumed the heavy-set woman chose her flamboyant clothes from a lack of judgement.
Mrs. Boorman continues that she kept up with the styles for years, obediently changing with the times to suit each era.
"Then I decided to take a stand. I picked the colorful dresses I liked best and stuck with them. My daughters are horrified, but I'm happy."
The romances were dull, the 1960's swinging New York scenes hysterical –
Greenwich Village was alive with activity. Ellen caught glimpses of a dungareed girl with one blond braid down her back, a thin, bearded fellow with a canvas under his arm, a couple swaying jerkily outside a nightclub to a drum beat that echoed savagely from within…
- and Ellen's career plots were as predictable as the romances.
But the underlying characterizations were very good, and the ideas good.
The larger teen romance itself was just not good.
Links